History's Most Influential Workplace Safety Events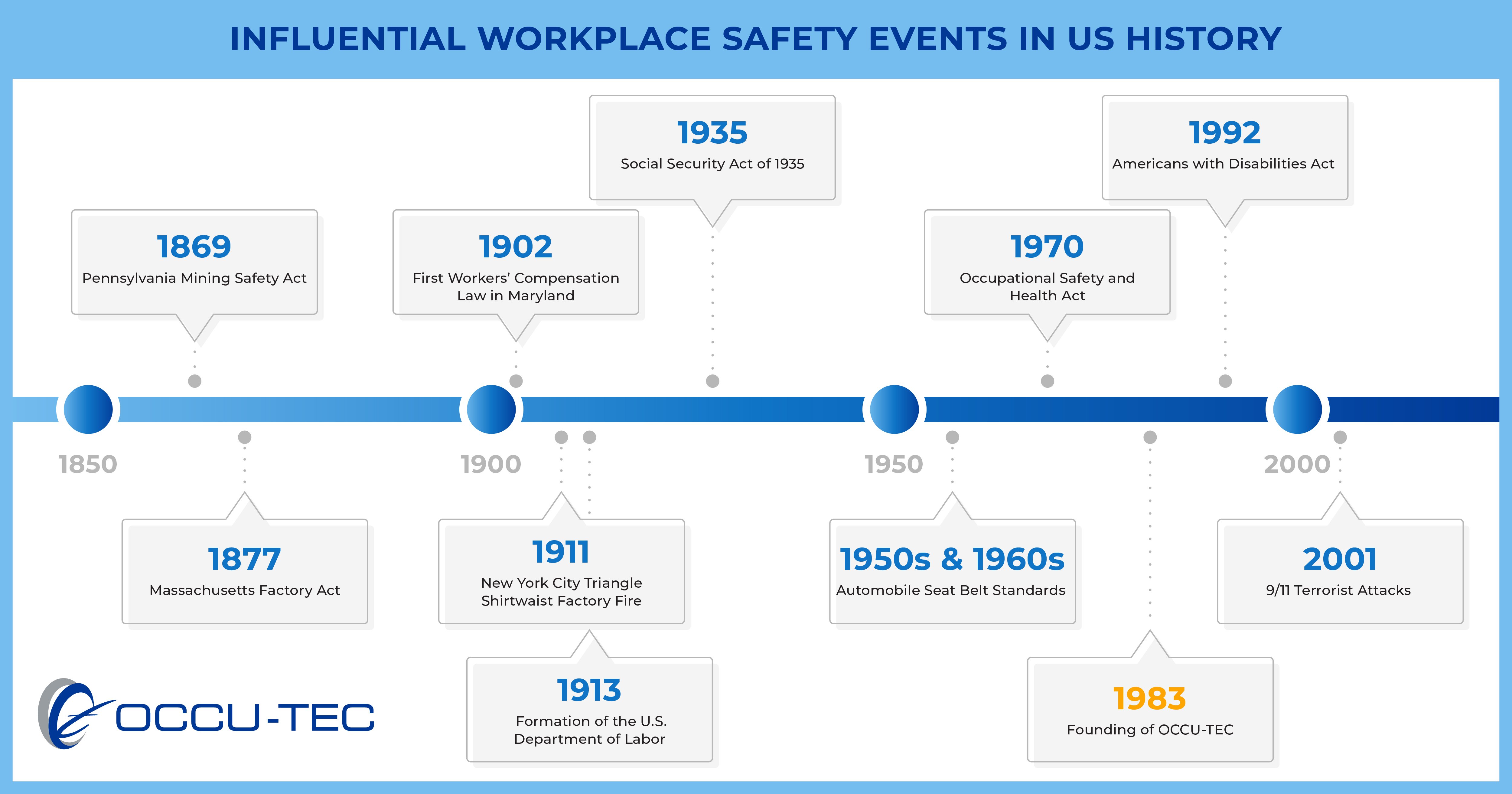 History of Safety in the Workplace: 11 Influential Workplace Safety Events
Throughout history, influential events have shaped the way we think about our physical well-being. We've made great strides in workplace safety by learning from these important but tragic incidents, which led to regional and national legislation that continue to improve working conditions around the country. Here are 11 of the U.S.'s most influential workplace safety events.
Influential Workplace Safety Events Timeline
1869 – Pennsylvania Mining Safety Act
Prior to the 1869 Mining Safety Act, Pennsylvania's Anthracite and Bituminous mines accounted for more than 600 miner deaths each year, according to Online Safety Trainer. The Mining Safety Act introduced mandatory mine safety evaluations and improved ventilation after long-lasting health problems like black lung and mining collapses. The Mining Safety Act is credited with markedly improving the safety of miners in Pennsylvania.
1877 – Massachusetts Factory Act
The Massachusetts State Legislature passed the nation's first factory safety and health law in 1877. According to the U.S. Department of Labor, the law gave power to factory inspectors to require machinery guarding, enhanced safety protocols for women and children using machinery, elevator opening safety guards, updated ventilation and sanitary regulations, exhaust fans for dust and fumes, required reporting of accidents, the enforcement of existing child labor laws, wage payment laws and other requirements not related to safety and health. As a result, 14 more states adopted safety laws by 1897.
1902 – First Workers' Compensation Law in Maryland
When the state of Maryland enacted the first workers' compensation laws, it extended protections to workers in hazardous industries including mining, steam and street railways and municipal public works projects. Although the Supreme Court struck down this initial law in 1904, it led to other states attempting their own workers' compensation laws. Wisconsin's 1911 workers' compensation law survived Supreme Court litigation and became the first lasting law. By 1948, every state had passed some form of workers' compensation law.
1911 - New York City Triangle Shirtwaist Factory Fire
A massive fire in the Triangle Shirtwaist Company factory in New York City burned the building down, killing 146 workers in March 1911. Today, we regard the fire as one of the most infamous workers' safety incidents in American industrial history. Historians and safety advisors claim the deaths were largely preventable; most of the victims died due to neglected safety features including locked factory building doors and factory manager malpractice. The fire brought attention to dangerous sweatshop factory conditions and led to the development of laws and regulations that better protected the safety of workers, including The Sullivan-Hoey Fire Prevention Law in October 1911.
1913 – Formation of the U.S. Department of Labor
President William Howard Taft established the Department of Labor on March 4, 1913, just hours before then President-Elect Woodrow Wilson took office. The Department of Labor, an indirect product of the Progressive Movement of the early 1900s was created to "foster, promote and develop the welfare of working people, to improve their working conditions, and to enhance their opportunities for profitable employment."
1935 – Social Security Act of 1935
President Franklin D. Roosevelt signed the Social Security Act of 1935. The act outlined provisions for workers including unemployment assistance, insurance requirements and other general welfare protections, as well as establishing a publicly funded insurance program to pay retired workers over the age of 65. The act also established a Social Security Board, comprised of three members appointed by the President, with the chairperson reporting directly to the President.
1950s and 1960s – Automobile Seat Belt Standards
In the 1950s, car manufacturers began installing seat belts in U.S. cars, and by 1968, the U.S. government began to require lap and shoulder seat belts in the front seats of all new cars sold in the United States. The seat belts we know today became standard in 1973.
1970 – Occupational Safety and Health Act
President Richard Nixon signed the Occupational Safety and Health Act in 1970, creating U.S. labor laws governing workplace health and safety standards in the private sector and federal government. The act ensures employers provide a working environment free from recognized hazards including exposure to toxic chemicals, excessive noise levels, mechanical dangers, heat or cold stress or unsanitary conditions. The act created the Occupational Safety and Health Administration (OSHA) and the National Institute for Occupational Safety and Health (NIOSH). Both organizations offer administration, research and regulation for workplace safety around the county to this day.
1983 – Founding of OCCU-TEC
OCCU-TEC began operations as a consulting and training firm in Kansas City, Missouri in 1983. Our focus is to help clients effectively manage environmental, occupational health and safety risks, control operational costs and improve overall productivity. For 40 years, our clients have considered us the "solution specialists."
Today, OCCU-TEC has grown into a multi-disciplined organization with client service and loyalty remaining key to our success. In today's competitive marketplace, many forward-thinking businesses and public agencies are evaluating their workplace and operational processes to control or eliminate potential losses, and they look to OCCU-TEC as a trusted partner in providing subject matter expertise along with technical and operational assistance. We produce cost-effective solutions that increase an organization's bottom line and productivity.
1992 – Americans with Disabilities Act
President George H. W. Bush signed the Americans with Disabilities Act in 1990, creating federal protections against discrimination based on disability. According to the Civil Rights Division of the U.S. Department of Justice, the Americans with Disabilities Act guarantees that people with disabilities have the same opportunities as everyone else to enjoy employment opportunities, purchase goods and services, and participate in state and local government programs. President George W. Bush later amended the Act in 2008 to broaden the interpretation of the law.
2001 – 9/11 Terrorist Attacks
Following the September 11th attacks in New York City, OSHA reaffirmed many safety requirements and emergency workplace plans and created additional guidelines for employer disaster planning. In the new National Response Plan, OSHA set forth a number of new procedures including a federal government response to emergencies and designated a Worker Safety and Health Support Annex. The response plan also created four Specialized Response Teams to mitigate worker risks associated with chemical, biological, radiological and structural collapse hazards, reaffirmed the need for effective emergency evacuation plans and regular testing, and reissued the National Emergency Management Plan. In its response plan, OSHA also outlined procedures including routinely fit-testing respirators for emergency responders, developed the Disaster Site Worker Training Program and renewed its support of the National Interagency Management System.
Who is making workplaces safer today?
Improving the health and safety standards of workplaces across the country is an ongoing project. At OCCU-TEC, we work with companies and government agencies to ensure the safety of workers around the country. Since 1983, we have helped employers protect their workers and update their workplaces to meet the newest safety standards.
What does OCCU-TEC offer to its clients to keep their workplace safe?
We offer our clients occupational safety and health consulting services along with critical fuel systems and environmental management. Additionally, we offer custom virtual and on-site training for employees, ensuring everyone on the client's team understands the safety protocols in place and is ready to act if workers' safety issues arise.
Contact us today to learn more about our occupational safety and health services.
---