Fractional environmental, safety and health services designed to fit your organization's needs.
Through our Managed Environmental, Safety & Health (MESH) Services program, OCCU-TEC addresses immediate and long-term environmental, safety and health issues. The program is designed to assist organizations that need to augment or are operating without dedicated safety or environmental staff but need professional expertise to develop and manage effective programs. Our program is customizable and scalable to your needs, mitigates risk, reduces operating costs and improves productivity.
Let OCCU-TEC's experts assess the health of your EHS program and develop a comprehensive plan that will ensure regulatory compliance while reducing liability. Our team can work with your safety staff, fill in any gaps or guide your organization to a culture in which safety is a core value.
With proper management, training and execution, your organization will experience heightened awareness, fewer accidents, higher productivity and lower worker's compensation costs.
OCCU-TEC's goal for every MESH Services partnership is to provide the expertise, structure and tools for your organization to grow and become self-sufficient.
How MESH Services Work
Discovery Assessment: Review existing programs, injury logs, incident reports and site visits
Development & Implementation: Build and launch comprehensive safety plan to develop a healthy safety culture, exceeding goals and regulations
Ongoing Monitoring & Maintenance: Project status tracking, bi-weekly status updates, monthly and annual program reviews
Safety Self-Sufficiency: Enjoy a positive safety culture, reduced risk and operating costs, and a safer workforce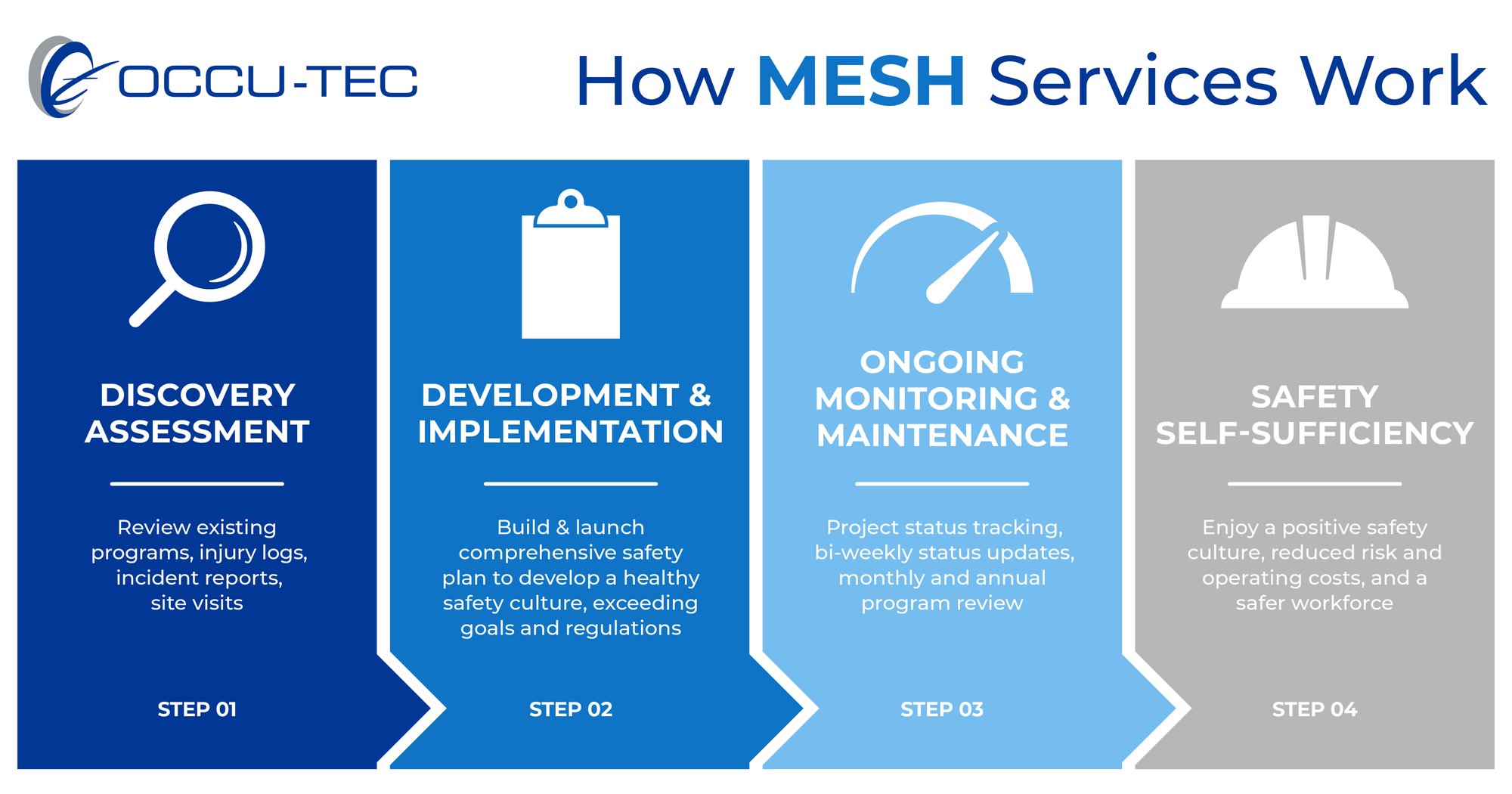 Benefits of OCCU-TEC's MESH Services:
Creates a culture of safety to decrease incidents and injuries
Customizable to fit your business's needs
Scalable to meet future demands
Helps meet and exceed laws and regulations, avoiding costly fines
Get in touch with our experts today and let us help you create a powerful culture of safety within your organization.